Get the party started wherever you are with the Beats by Dre Pill 2. 0 Speaker. It's small enough to grip in your hand while putting out rich and powerful sound that easily fills a room or enlivens outdoor gatherings. Control the speaker from up to 30 feet away with any Bluetooth-enabled device, or plug in your audio device if it's not Bluetooth enabled. If you want to pump up the volume or create a stereo effect, you can pair your Bluetooth-enabled device with two separate Pill speakers to amplify your sound, or set one speaker as the left output and the other as the right output.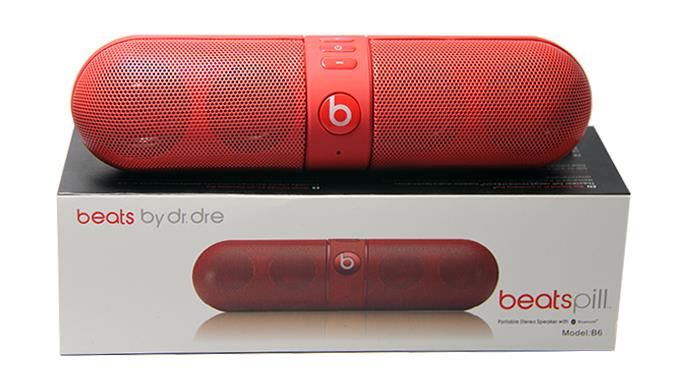 The Pill 2. 0 can also synch any Bluetooth-enabled device to an external speaker system if you'd rather have your tunes blasting through your home stereo system or you want to watch a movie on your computer with surround sound. Possibilities abound. This portable, wireless speaker runs on a rechargeable battery, and is capable of charging your phone or external device if needed. It includes a built-in microphone so you can conference call from anywhere, and take or make calls without touching your phone.
It weighs less than a pound and slides into a carrying case complete with a carabiner for easy transport. Heck, you can even have you're tunes rolling while you're hanging off a tall crag somewhere. Like we said, possibilities abound. Beats Pill wireless speakers bring the party with you wherever you go. The Pill is lightweight, portable, and wireless enabled, meaning you can change tracks from your phone or take that call with Bluetooth conferencing. Small enough to fit in your hand, the Beats Pill surprises with its powerful signature sound. The smallest wireless speaker from Beats by Dre and completely cord-free, Beats Pill allows you to enjoy hours of premium sound without being tied down.
Small Size, Big Sound.
Despite its compact size, the Beats Pill produces powerful sound. It's easy to enjoy soaring highs and deep, booming bass in every room of the house. The Pill is Beats' smallest wireless speaker and is completely cord-free.
Change Tracks from Your Phone.
Or your laptop, or any other Bluetooth-enabled device from up to 30 feet away. The portable Beats Pill frees you to roam which means you'll always have high quality sound near or far.
Totally Portable.
You can set up anywhere. The Beats Pill is lightweight so it won't slow you down and it is small enough to fit in whatever you're carrying out the door. The carry case even comes with a handy carabiner so you can attach it to your backpack.
Bluetooth Conferencing.
Take that call. The Beats Pill's bluetooth capability and internal microphone make talking on the phone easier and better sounding than ever before.